Member's Guide to Aviation Adventures
1)      Mackinac Island Airport (KMCD)
a)      On Mackinac Island, airplanes are the only motorized vehicles allowed other than boats. Once on the island, the primary means of transportation include bicycles, rickshaws and walking.  Mackinac Island is known for its famous chocolates that also make nice gifts for people not lucky enough to fly with you.  While summer crowds bring the island to life, the change of season in the fall can provide an impressive scenic flight that follows the shoreline up along the coast of Lake Michigan.
b)      The Trip: In twin engine aircraft, the flight can often be completed in about two hours each way.  For pilots opting to take a single engine aircraft, the trip is likely to be more of a weekend trip as the flight takes about three and a half hours each way.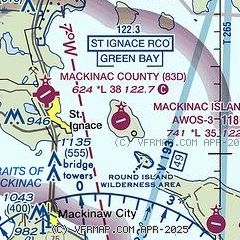 2)      Schaumburg Regional Airport (06C)
a)      Schaumburg airport is a short trip from Chicago Executive Airport and can be paired with a skyline flight to introduce friends and relatives to your exciting hobby.  Not only can your passengers experience a world class view of the city we have all come to love, but then you can continue on to show them the freedom afforded to us by flight.  At Schaumburg Regional Airport, pilots are able to park their airplane on the ramp directly in front of Pilot Pete's restaurant.  From there, pilots and passengers can enjoy good food while looking out across the airport.
b)      The Trip: While a flight Schaumburg Regional Airport and Pilot Pete's may only take about thirty minutes each way, when paired with a skyline flight it can be extended to be a fun filled two hours of flying.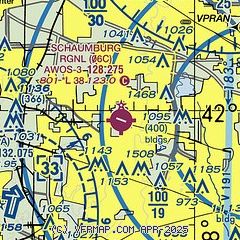 3)      Quad City International Airport (KMLI)
a)      While Moline Illinois is not often thought of as a hotbed of culinary brilliance they are home to two exciting possibilities for BBQ enthusiasts.  Bare Bones BBQ and Jim's Rib Haven are both excellent options for an extended lunch or dinner flight.  Instead of the traditional $10 hamburger, expand your horizons and go get some high quality BBQ with a flight that becomes increasingly more beautiful as you approach the Mississippi River.
b)      The Trip: The flight to Quad City International Airport typically takes about an hour and a half each way, but is relatively simple to complete once clear of O'hare's airspace.  The flight will transition from an urban view to the agriculture fields that are notoriously associated with Illinois.  As the flight nears Moline and the Mississippi River, the view becomes much more interesting as there are gently rolling hills that lead into the river.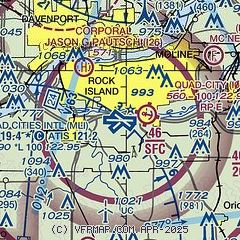 a)      Looking for a place to fly on a special occasion?  Eagle Creek Airpark could be the perfect destination for you.  Pilots coming in and out of Eagle Creek Airpark frequently visit Rick's Café Boatyard to enjoy some quality seafood and a lively atmosphere.  Located outside of downtown Indianapolis, a trip to Eagle Creek Airpark could easily become a weekend getaway with plenty of attractions and amenities to suite an array of personal interests.
b)      The Trip: Utilizing the Chicago Skyline to Bypass O'hare's airspace, pilots will find that the flight is about two hours each way.  However, once clear of O'Hare's airspace the flight is pretty much a straight shot.  If leaving in the early afternoon and returning in early evening or night, the pilots can treat their passengers to two very cool views of the city of Chicago making this trip for excellent food one to truly remember.
.